Black Shark 3 Battery Specs revealed, features 5,000mAh battery with 65W Fast Charging
[ad_1]

The launch of the latest entry in the Black Shark series of gaming smartphones is just around the corner. At the moment, finer details regarding the device are still unknown but certain regarding its battery has been revealed.
According to Luo Shao, the CEO of Black Shark, the company is looking to strike a balance between the battery capacity and charging power of the smartphone. In other words, a careful process is being undertaken to keep the charging and discharging rate in mind. Since the Black Shark 3 will feature 5G network, the strain on the battery life will also be noticeable. Thus, the company is planning on improving both battery capacity and charging rates while specifically designing a heat dissipation design for the smartphone

Furthermore, the senior executive started a vote on "which combination with charging rates, battery capacity and discharging rates do users prefer in a 5G gaming smartphone." He offered four different configurations, that are:
65W + 5000mAh, 100% charge in 38 minutes, cycle life> 800.
55W + 4500mAh, 100% charge in 40 minutes, cycle life> 600
65W + 4000mAh, 100% charge in 30 minutes, cycle life> 600
55W + 4440mAh, 100% charge in 36 minutes, cycle life> 600
Similarly, the Chief architect of Black Shark went on to add that 5G gaming smartphones require more complex and dedicated power systems over those of other flagships. It is true to some degree considering the power draw and heats the newer and faster bandwidth is capable of causing. The chief event even heavily implied to vote for the 65W + 5,000mAh battery variant, which all but confirms the configuration Black Shark will offer.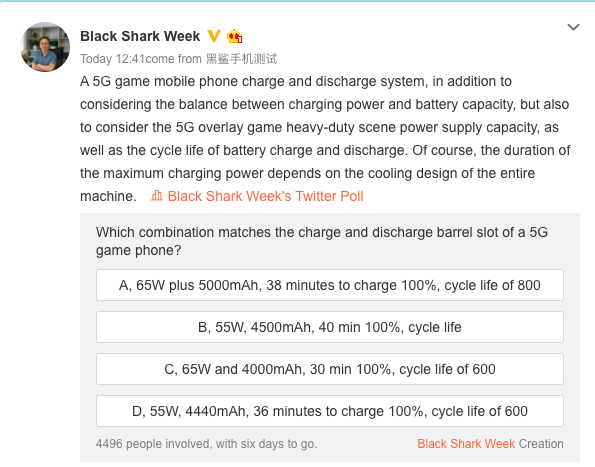 A company generally never offers options with numbers or specs that are greater than what will eventually be offered, so it's safe to expect that the Black Shark 3 will sport a 5,000mAh battery that supports 65W fast charging. Additionally, other leaks and reports have revealed that the gaming smartphone will support SA and NSA dual mode 5G as well. The display is expected to feature 2K resolution and offer a 120Hz refresh rate.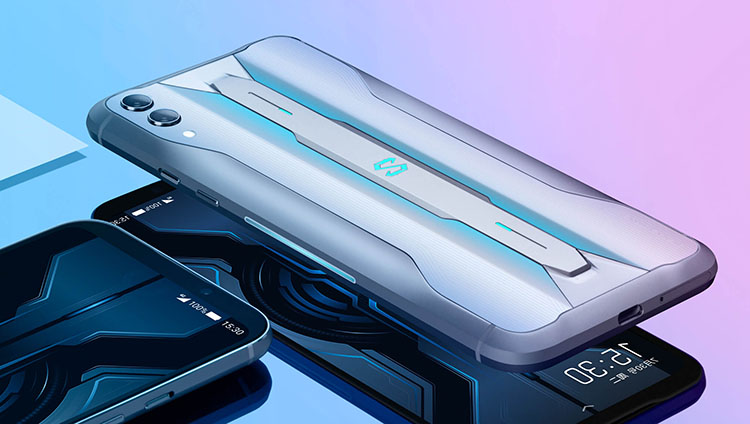 Under the hood, the Black Shark 3 will likely feature the Qualcomm Snapdragon 865 SoC paired with the X55 5G modem. For memory, an LPDDR5 flash chip alongside UFS 3.0 is expected as well. Going by the popular flagship features, Wi-Fi 6 may also be included along with NFC. Notably, due to the ongoing epidemic caused by the Coronavirus outbreak, the smartphone will be launched during an online live streaming event.
[ad_2]

Source link