Realme just launched its latest entry-level smartphone in India. We are talking about Realme C3, a device packing amazing specifications and sold at an incredibly affordable price. In my personal opinion, on the paper, it is the most interesting last-generation smartphone available for less than €100. But it has a few important rivals in the Indian market which will not make it easy for Realme to dominate the entry-level segment with this device in the coming months. Among the most convincing ones, there are Redmi 8 and Infinix Hot 8. We chose them since they are the most suitable candidates for a specs comparison between the best smartphones in the entry-level niche.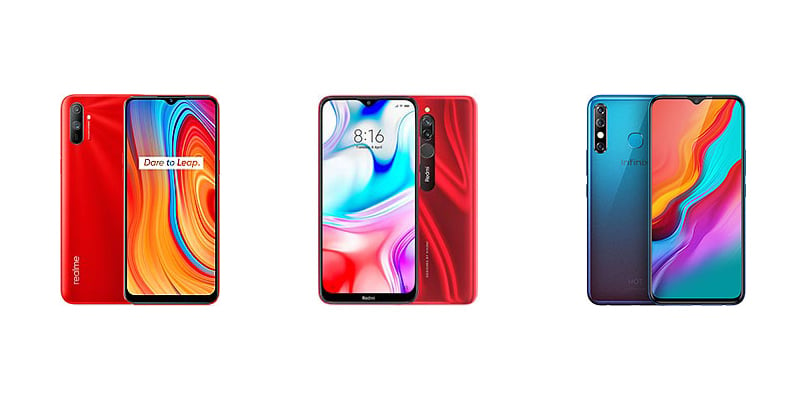 Oppo Realme C3 vs Xiaomi Redmi 8 vs Infinix Hot 8
Infinix Hot 8
Oppo Realme C3
Xiaomi Redmi 8
DIMENSIONS AND WEIGHT
165 x 76.3 x 8.7 mm, 179 grams
164.4 x 75 x 9 mm, 195 grams
156.5 x 75.4 x 9.4 mm, 188 grams
DISPLAY
6.52 inches, 720 x 1560p (HD+), 269 ppi, IPS LCD
6.5 inches, 720 x 1560p (HD+), 270 ppi, IPS LCD
6.22 inches, 720 x 1520p (HD+), 270 ppi, IPS LCD
PROCESSOR
MediaTek Helio A22, octa-core 2 GHz or MediaTek Helio P22 octa-core 1.8 GHz
Mediatek Helio G70, octa-core 2 GHz
Qualcomm Snapdragon 439, octa-core 1.95 GHz
MEMORY
2 GB RAM, 32 GB – 4 GB RAM, 64 GB – micro SD dedicated slot
2 GB RAM, 32 GB – 3 GB RAM, 32 GB – 4 GB RAM, 64 GB – micro SD dedicated slot
4 GB RAM, 64 GB – micro SD dedicated slot
SOFTWARE
Android 9 Pie, XOS
Android 10, Realme UI
Android 9 Pie, MIUI
CONNECTIVITY
Wi-Fi 802.11 b/g/n, Bluetooth 5.0, GPS
Wi-Fi 802.11 b/g/n, Bluetooth 5.0, GPS
Wi-Fi 802.11 b/g/n, Bluetooth 4.2, GPS
CAMERA
Triple 13 + 2 MP + QVGA f/1.8
8 MP f/2.0 front camera
Dual 12 + 2 MP f/1.8 and f/2.4
5 MP f/2.4 front camera
Dual 12 + 2 MP f/1.8
8 MP f/2.0 front camera
BATTERY
5000 mAh
5000 mAh, battery charging 10W
5000 mAh, fast charging 18W
ADDITIONAL FEATURES
Dual SIM slot
Dual SIM slot, reverse charging
Dual SIM slot
Design
When it comes to smartphone design, it is not everything about look. Materials and build quality often play a key role in aesthetics. Infinix Hot 8 is the only device with a glass back and it provides more premium materials. Both Realme C3 and Redmi 8 are entirely made of plastic (except for the display, naturally), but they are both splash resistant. Infinix Hot 8 has the best materials, but Redmi 8 has the most compact design since it sports a smaller display. Note that Realme C3 does not have a fingerprint reader, we think it is the only big thing missing on this device.
Display
There are no big differences between the display quality of these devices, so we recommend you to focus on other specifications. All of them feature an IPS panel with a Full HD resolution. Realme C3 delivers a slightly higher brightness, but what really differs is the display size. Realme C3 and Infinix Hot 8 sport 6.5 and 6.52-inch displays respectively, while Redmi 8 is more compact with its 6.22-inch display.
Specs & Software
The most powerful handset here is the Realme C3 with its new MediaTek Helio G70 chipset. It is essentially a toned-down version of the Helio G90 and it provides very high CPU and GPU performance. Realme C3 is also the only device of this trio to ship with Android 10 out of the box, customized by the new Realme UI. The silver medal goes to Redmi 8 fueled by a Snapdragon 439 chipset. Infinity Hot 8 has two configurations with Helio A22 and Helio P22, both inferior to Helio G70 and Snapdragon 439.
Camera
Given that they are entry-level devices, none of these handsets is a camera phone. But they still deliver a decent photo quality, especially if compared to all the other devices with the same price tag. The most convincing is the Infinix Hot 8 since it provides an interesting photo quality even in low light conditions and it has a more powerful quad-LED flash on the back, as well as a front-facing, LED flash. The cameras are one of its strongest points. Right after, we got the Redmi 8.
Battery
Infinix Hot 8, Realme C3 and Redmi 8 all feature a huge 5000 mAh battery and they are all battery life champions. All got a 12 nm chipset, so there will be no important difference when it comes to battery life. Redmi 8 has a faster-charging technology (18W), while Realme C3 is the only to support reverse charging (wired and via a micro USB port).
Price
Realme C3 starts from just Rs. 6,999/€90/$99 in India, Redmi 8 has an Rs. 7,999/€102/$112 starting price and Infinix Hot 8 starts from Rs. 8,800/€112/$123. In our opinion, Realme C3 looks more interesting due to its amazing chipset, but some may prefer Infinix Hot 8 due to its more convincing cameras and a more premium design. Do not forget that, despite having interesting special features such as like reverse charging, Realme C3 does not feature a fingerprint scanner, unlike Redmi 8 and Infinix Hot 8.
Oppo Realme C3 vs Xiaomi Redmi 8 vs Infinix Hot 8: PROs and CONS
Xiaomi Redmi 8
PROs
More compact
Pretty nice cameras
Splash resistant
Faster charging
CONS
Oppo Realme C3
PROs
Amazing performance
Android 10 out of the box
Splash resistant
Reverse charging
CONS
Infinix Hot 8
PROs
Best design
Great cameras
Wide display
Quad-LED flash
Front-facing LED flash
CONS